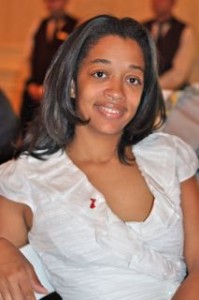 Davida Godett is a 3-time stroke survivor. Her tag line is "If it could happen to me, it could just as easily happen to you."  Davida's passion is to tell her story nationally to spread stroke awareness, so that others can know the warning signs and effects of a stroke. Davida wants YOU to be a survivor just like her.
Davida is a single mother of two children, who give her the strength to make it through each day. She holds a Bachelor of Science degree in Accounting, as well as a Masters degree  in Business Administration with a concentration in Management. When Davida had her second stroke, she was working  toward a Graduate Certificate in Supply Chain Management. She has worked for financial institutions, the food and beverage and manufacturing industries, and for a university where she has held various positions as a financial and accounting analyst and a college recruiter. In her spare time, Davida taught English as a Second Language (ESL) to adults who wished to better their lives and those of their children.
Due to her untimely strokes (she now suffers from vascular dementia), Davida has since taken on the role of spreading stroke awareness through her numerous speaking engagements at such venues as Merck Pharmaceutical, Temple University and the Pennsylvania Conference for Women Reception with Governor Rendell. In May 2007, Davida spoke at an event with the late Yolanda King; it was the last public appearance for Ms. King.
Davida has also told her story through various media outlets including Clear Channel and Philadelphia Speak-Up. Her story has also appeared in The Philadelphia Tribune, The Philadelphia Inquirer, The Bucks County Courier Times, and USA Today.